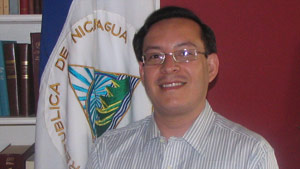 New York (CNN) — Investigators are still looking for suspects in the apparent homicide of a Nicaraguan diplomat found with his throat slashed in his New York apartment, police said.
Two knives were involved in the death of Cesar Mercado, the consul of Nicaragua in New York, police said late Thursday.
A 12-inch steak knife was found beside the blood-filled bathroom sink, New York Police Department Deputy Commissioner Paul Browne said. A second knife — a 4-6 inch paring knife — was found in the sink, Browne said.
A police spokesman said there was no evidence of robbery,
Mercado, 34, was last seen alive Wednesday.

His body was found just inside the door of a small, sixth-floor studio apartment in the Bronx on Thursday morning by a driver who had arrived to take him to the United Nations.
The door was closed, but unlocked, Browne said. The driver opened the door, saw the body, stepped out and called 911.
Mercado had deep lacerations to the neck, and stab wounds to his abdomen, Browne said.
"It appears to be a homicide," he said.
No arrests had been made late Thursday, Browne said.
A resident who lives in the apartment below Mercado's told CNN he heard "screaming and banging" from Mercado's residence Wednesday night.
Mercado had lived in the United States for eight years and had been consul the entire time, said Danilo Rosales Diaz, deputy permanent representative of Nicaragua to the United States
Rosales said Thursday that he was shocked by the news of Mercado's death.
"He was here yesterday, working yesterday," he said.